News
December 2011
On November 25, Brent Olthuis presented a paper on "Life, Liberty and Security of the Person as Generalized Human Rights: A Section 7 Redux", at the Continuing Legal Education Society of BC's Human Rights Conference, Vancouver, BC.

Michael Stephens recently wrote a paper entitled Expertise in Administrative Law: Institutional or Individualized Assessment? for the Canadian Bar Association 12th Annual National Administrative Law and Labour & Employment Law Conference.

Lexpert Publications has published its 2011 Guide to the Leading US/Canada Cross-Border Litigation Lawyers in Canada and the firm is well represented. Three of the eight British Columbia counsel recognized in the field of Corporate Commercial Litigation practice at our firm – Bill Berardino, John Hunter and Ken McEwan. Ken is also identified as leading counsel in Securities Litigation and Bill is recognized in Product Liability Litigation.
November 2011
Ken McEwan has been appointed the Law Society's Committee on Relations with the Judiciary. The Committee is an informal and optional resource for lawyers and judges in the course of a trial or other proceeding. The committee provides guidance, at the request of a judge, to lawyers who need emergency assistance, or who need advice and assistance to make a complaint about a judge's conduct. Ken is the representative of the civil litigation bar.

Randy Kaardal gave a presentation to the BC Employment Law section on the topic "Ethical and Strategic Issues respecting Wrongful Dismissal Matters".

Judgment in the Polygamy Reference [2011 BCSC 1588] was handed down on November 23, 2011. Brent Olthuis and Stephanie McHugh were counsel for the Canadian Coalition for the Rights of Children with Cheryl Milne of the David Asper Centre for Constitutional Rights. The court upheld the constitutionality of the criminal prohibition against polygamy and, further to the team's submissions, held that a person aged 12 to 17 who is party to a polygamous union cannot be held criminally responsible for that fact.

On November 15, John Hunter began his one year term as President of the Federation of Law Societies of Canada. The Federation is a national organization with the primary objective of bringing together Canada's regulatory authorities to enhance open and transparent governance of an independent legal profession in Canada and to set national standards and harmonize provincial and territorial rules and procedures. Its members are the 14 law societies and other legal regulators in Canada.
October 2011
The 2012 edition of Best Lawyers in Canada has been published and once again lawyers from Hunter Litigation Chambers have been recognized in a wide range of areas, including Corporate and Commercial Litigation (Bill Berardino, John Hunter, and Ken McEwan), Bet-the-Company Litigation (Bill Berardino), Labour and Employment Law (Randy Kaardal), Natural Resources Law (John Hunter), Class Action Litigation (Bill Berardino and Ken McEwan), Director and Officer Liability (Bill Berardino), Administrative and Public Law (John Hunter and Randy Kaardal), Product Liability (Bill Berardino), Securities Law (Bill Berardino and Ken McEwan), Aboriginal law (John Hunter), Personal Injury Litigation (Bill Berardino) and Legal Malpractice Law (Bill Berardino). In addition, John Hunter was named Best Lawyers' 2012 Vancouver Natural Resources Law Lawyer of the Year.

We are pleased to welcome Eileen Patel who has joined our firm as an associate. Eileen is a graduate of the UBC Law School, where she was Gold Medalist in 2009. Following her graduation, she clerked for the British Columbia Court of Appeal in 2009-2010 and for Chief Justice Beverley McLachlin of the Supreme Court of Canada in 2010-2011. She is a member of the bar in Ontario as well as British Columbia.

Ken McEwan and Claire Hunter have succeeded in an application in the Yukon Supreme Court to stay proceedings in that jurisdiction in a commercial case involving parties resident or incorporated in Guinea, Scotland, Channel Islands, Norway, British Columbia or the Yukon. The commercial contract in question required the parties to arbitrate disputes in South Africa pursuant to South African law. The Yukon court held that it was not the proper forum for the case.

John Hunter has been made an Honorary Member of the Commercial Bar Association of England (COMBAR). COMBAR was set up in 1989 by all the main sets of barristers' chambers in London whose members specialize in commercial law. Among its primary objectives is the development of closer working relationships between the English commercial bar and commercial lawyers in other jurisdictions.
John Hunter and Claire Hunter successfully obtained summary dismissal of a claim against the firm's clients Almag Aluminum Inc., Apel Extrusions Limited, Can Art Aluminum Extrusion Inc., Metra Aluminum Inc., Signature Aluminum Canada Inc., Spectra Aluminum Products Inc., Spectra Anodizing Limited. Reasons for Judgment are available here.
September 2011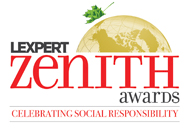 We are pleased to announce that the firm has once again been awarded a Lexpert Zenith Award for Corporate and Law Firm Social Responsibility. Presented in Toronto on September 21, the Zenith award recognized the work of Brent Olthuis and Stephanie McHugh, who worked pro bono on the B.C. polygamy reference to give a voice to children's rights in that important case. This is the second year in a row the firm's pro bono work has been recognized with a Zenith award and the second year in a row that Brent Olthuis has headed up the team. Congratulations to Brent and Stephanie for their valuable work.

John Hunter was one of the welcoming speakers at the opening of the new Law School at Thompson Rivers University in Kamloops on September 6. He also presented a British Columbia perspective on a panel at Canadian Insight's National Class Action conference in Toronto on September 21.
August 2011
Michael Stephens has been elected Chair of the Administrative Law Subsection of the Canadian Bar Association (BC Branch) for 2011-2012.
Ken McEwan and Claire Hunter were counsel on a trial of a claim alleging breach of contract relating to a radius clause provision in a lease that raised issues of the circumstances in which the corporate veil should be lifted. The Reasons for Judgment in Emtwo Properties Inc. v. Cineplex (Western Canada) Inc., 2011 BCSC 1072 are available here.
June 2011
Welcome to Andrea Glen and David McEwan who were called to the bar in June and will be joining the firm as junior associates. Andrea is a graduate of Western and the Harvard Law School. She was called to the bar of New York in 2008 and practised in New York before clerking at the United States District Court for the Southern District of New York. David graduated from the University of Toronto Law School in 2010 and recently completed his articles with us.
On June 7, John Hunter participated in a National Judicial Institute symposium on Good Judgment: Judicial Decision-Making and Judicial Method and gave a presentation on the topic, "What is a Good Decision?"
May 2011
Bill Berardino has been awarded the Alumni Award of Distinction by the UBC Faculty of Law Alumni Association. The Alumni Award of Distinction recognizes the outstanding achievements of a UBC Faculty of Law alumnus whose endeavours in the practice of law, government service, the judiciary, business, legal academe, community service or other areas have brought honour to the Faculty.

Ken McEwan and Tam Boyar have successfully defended in the Court of Appeal a decision rejecting a shareholders challenge to the deleveraging of Lions Gate Entertainment: see Icahn Partners LP v. Lions Gate Entertainment Corp. et al, 2011 BCCA 228

John Hunter has been admitted as a Fellow of the London-based Chartered Institute of Arbitrators (CIArb). The Chartered Institute of Arbitrators is a not-for-profit, UK registered organization with a global membership of around 12,000 arbitrators and mediators who have professional training in private dispute resolution.
April 2011
Ken McEwan and Tam Boyar have won an important case dealing with class actions. On April 15, the British Columbia Court of Appeal released its long-awaited decision on the availability of class actions against direct and indirect purchasers of the product. A majority of the Court held that indirect purchasers do not have a valid cause of action for damages for price-fixing and overturned a certification decision of the lower court. This decision will have a major impact on practice in the area of competition class actions in Canada.

On April 7 and 8, Claire Hunter spoke at "The Legal Profession & Pro Bono: Strengthening Access to Justice" in Santiago, Chile. The conference was co-organized by Fundacion Pro Bono Chile and the Cyrus Vance Center of the New York City Bar with the collaboration of Pro Bono institutions from across the Americas, including British Columbia's Access Pro Bono. Claire participated in a workshop on pro bono practice in Canada and spoke about the firm's commitment to pro bono work and its implementation of the Pro Bono Declaration for the Americas. The firm became the first Canadian signatory of the Pro Bono Declaration for the Americas last year.

Ken McEwan was elected to the Board of Governors of the International Society of Barristers at the Society's annual convention in March. The International Society of Barristers is an American-based organization formed to recognize excellence in advocacy. Membership is by invitation only.
March 2011
The 2011 Chambers Global Guide to the World's Leading Lawyers for Business has been published, and once again Hunter Litigation Chambers is listed in the top rank of litigation firms in British Columbia. The Chambers Global description of our firm is as follows:
This firm enjoys an enviable reputation for litigation in British Columbia, and is widely considered a leading litigation boutique. Clients and peers alike heap praise on the firm for the quality of its service and the high-quality work it produces in its key areas of commercial litigation, arbitration and administrative law.

Sources say: "They are superb litigators." "The lawyers are responsive and comprehensive, and have an intellectually nuanced approach to the law."
In the same Guide, Bill Berardino is identified as one of the top four counsel in Canada practicing in the area of Class Actions with the editorial comment as follows:
William Berardino QC of Hunter Litigation Chambers is a revered practitioner in British Columbia who boasts an impressive class action practice alongside his high-profile commercial litigation work.

Gib van Ert has successfully defended a judgment for breach of contract in the Court of Appeal. The case arises from a homeowner's attempt to sell her home after discovering property contamination caused by a leaking underground oil storage tank. The buyer refused to complete the purchase and sued the homeowner, who counterclaimed for breach of contract. The summary trial judgment in favour of the homeowner is Gulston v. Aldred 2010 BCSC 241. The judgment of the court of appeal dismissing the buyer's appeal can be found at 2011 BCCA 147. The amount of damages owing remains to be determined.
February 2011
John Hunter's article on "Post-Call Professional Legal Education – The British Columbia Approach" was published in the 2010 Canadian Legal Education Annual Review at 2010 C.L.E.A.R. 93.
January 2011
The 2011 Lexpert/American Lawyer Guide to the Leading 500 Lawyers in Canada has just been published and Hunter Litigation Chambers has been recognized as the leading British Columbia firm in both Commercial Litigation and General Litigation. In addition, Bill Berardino was identified as a leading lawyer in both Corporate-Commercial Litigation and Directors and Officers Liability, while John Hunter was also named in Corporate-Commercial Litigation.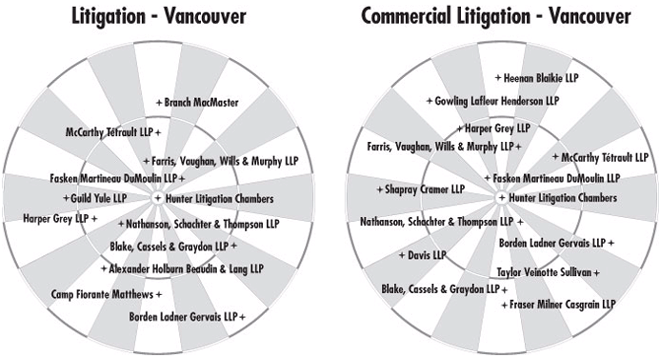 Source: Lexpert.ca